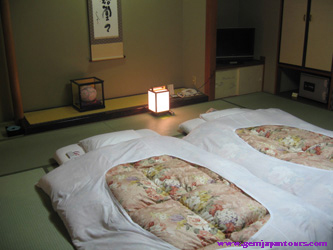 Note:
Rooming is based on double occupancy.


The ryokan, in principle, has private toilet facilities and a bath in the guest room as contrast to "minshuku" which is a family-run Japanese inn and has no toilets and a bath, which are shared.
Buddhist temple lodge, like the minshuku, has no private toilet facilities and a bath.
Your accommodations were carefully selected on the basis of service qualities and hospitality and we'd like to hasten to add that the hospitality by Japanese ryokan maids is legendary. They attend to every need you have during your stay at ryokan.

Ryokan, especially, onsen ryokan is the best representation of what Japanese culture is like. Ryokan is more than a place to sleep, it is an opportunity to experience the traditional Japanese life style including food and to gain insight into authentic Japanese culture.

They typically feature tatami-matted rooms, and yukata or simplified kimono to be worn after taking a soak in the hot tub. Yukata is usually made of cotton but increasingly synthetic materials are used. At some ryokans there are several colors and designs of yukata for women to choose from.
You sleep on a bedding called futon, which is spread out directly on the tatami floor. (see the photo on top).


Japanese archipelago is situated on the Pacific Rim of Fire with hosts of active volcanos, and we have an abundance of hot spring spas throughout the nation. As a matter of fact, going to hot spring spa and taking a soak in the bath is one of the most popular activities for the Japanese during their holiday.
You should let all of your limbs hang loose in the hot tub, soak away the muscle fatigue of the day and flush out all the mental stress you may have. In fact, Onsen is believed to have rejuvenating and therapeutic effects. Sometimes you can come up with some inspirational brainstorms while soaking yourself in or solve problems you have long been grappling with.